Winter Flowers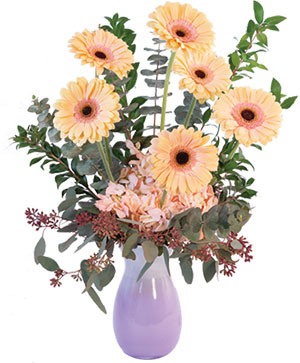 Pastel Gerberas
Floral Arrangement
This delightful bouquet will bring warmth to any room! With pink and yellow bicolored gerberas, a stunning pink hydrangea, and handsome baby blue eucalyptus, Pastel Gerberas is a peaceful and stylish mix, perfect for any occasion. Surprise someone you love with this beautiful peach bouquet!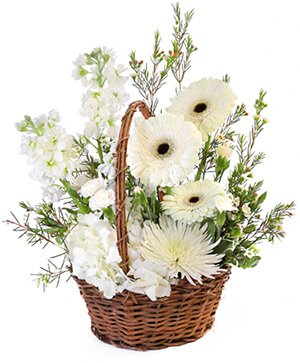 Pristine White Basket
Floral Arrangement
Pure and sweet, this arrangement is a stunner! Featuring lovely mini carnations, heavenly gerberas, alluring hydrangeas, tasteful waxflower, and more, Pristine White Basket is purely perfect! This captivating arrangement is sure to bring smiles to everyone who sees it!
The chill maybe in the air, but Brunet Florist creates a cool elegance with winter flower arrangements. Chase away the winter blues with a selection of fresh flower arrangements to adorn your home. Celebrate the beauty of fresh fallen snow with glacier-white colored flowers, intertwined with a platinum ribbon exquisitely arranged in a vase. If you love the nighttime winter sky, bring a little star gazing to your office with an amazing 'Star Gazer' lily flower arrangement. A breathtaking display of winter beauty is found in the frosty air, moist snowflakes and billowy clouds of the season. With each floral bouquet, Brunet Florist creates a mesmerizing winter wonderland.